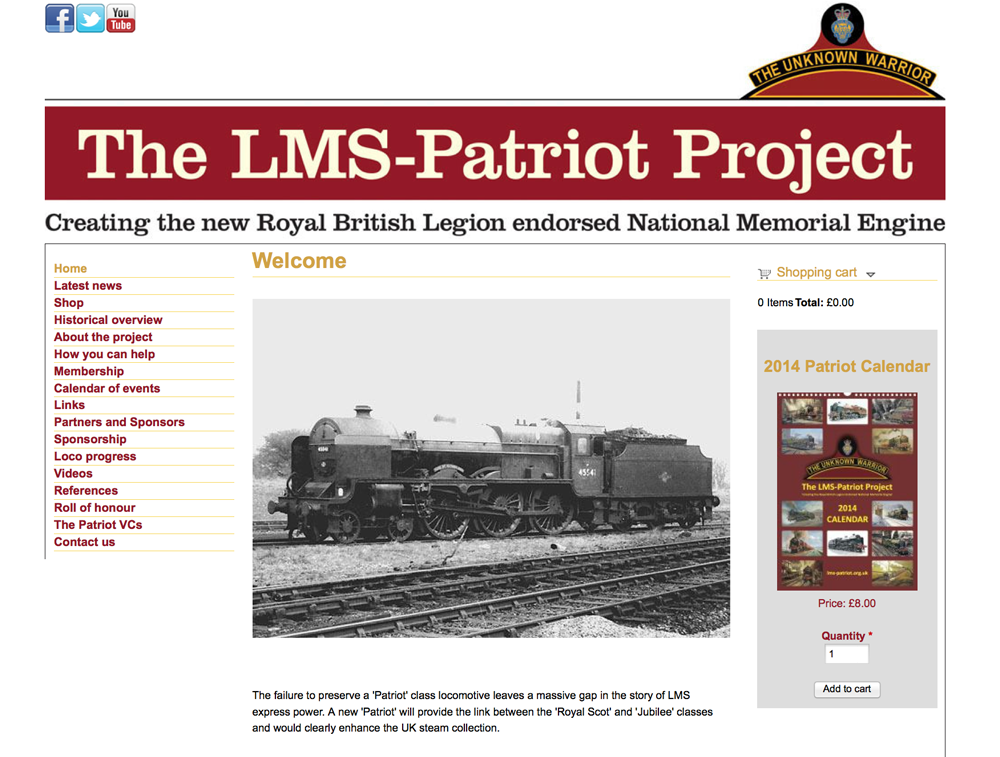 The LMS-Patriot Project project aims:
To build a new 'Patriot' steam locomotive to the original Sir Henry Fowler parallel boiler design, capable of running on the mainline.
To create the new Royal British Legion Endorsed National Memorial engine, named 'The Unknown Warrior'.
To be complete in time for the 100th Anniversary of the Armistice in 2018.
To achieve these aims the LMS-Patriot Project is looking to raise £1.5 million to build 'The Unknown Warrior'. This is being raised through:
Public donations and regular contributions (with Gift Aid where applicable)
Fixed-interest loans
Legacies
Commercial sponsorship
Grant applications
None of the original 52 'Patriot' class locomotives was preserved, which leaves a massive gap in the story of LMS express power. The new 'Patriot' will provide the link between the 'Royal Scot' and 'Jubilee' classes and will enhance the UK steam collection. The new National Memorial Engine will be a unique contribution to the 2018 Armistice Day Centenary commemorations, and a permanent memorial to all fallen servicemen and women.
Waymark and LMS Patriot
Waymark has supported the LMS Patriots Project by creating an infrastructure to communicate and manage their appeals. This includes the web site that supports all the funding initiatives and the communication plan and supporting documents for the Boiler Plate Appeal.
The web site continues to be run by a team of volunteers in multiple locations, each of whom is responsible for a different part of the website, plus a small core staff team. There is a membership database which allows members to join, renew and donate online, as well as news and events sections and photo libraries. The online shop is also integrated to the site.
The site is powered by Drupal and CiviCRM, with the shop running Ubercart. Payments are handled via PayPal.
Appeals
Identity
Social media
Training
Communication
Technology
Design